Jolee Stegemoller, DVM
Small Animal Veterinarian
Dr. Stegemoller began her veterinary journey with 4H and the AQHA in southern Indiana. She attended Murray State University in Kentucky and graduated magna cum laude in 2009 with her B.S. in Agriculture. In 2013, she obtained her DVM from the Purdue University School of Veterinary Medicine. Dr. Stegemoller was a veterinary extern at Janssen Veterinary Clinic prior to beginning her professional career. After completing her externship at JVC, Dr. Stegemoller then went on to complete a one year internship at a well-respected mixed animal practice in Colorado. She was retained there as an associate for 3 years, until the opportunity arose for her to return to Indiana with her family. Her professional interests are internal medicine, lameness and pain management. In Dr. Stegemoller's time away from the clinic, she loves spending time with husband Derek, daughter Charlotte, and their 2 dogs, Jethro and Junie. They enjoy hiking, camping, horseback riding, and adventuring.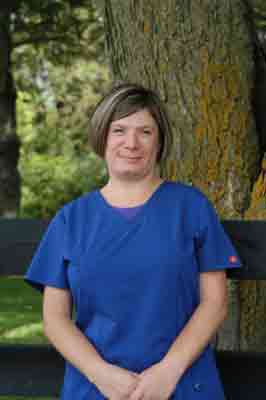 Sara Meneghini, DVM
Small Animal Veterinarian
Dr. Sara Meneghini began her love of animals at 12 yrs old riding horses in western Montana. She earned her B.S. in Animal Science from the University of Connecticut in 1994. From New England she migrated to North Carolina where she worked as a veterinary assistant in both general practice and emergency medicine. In 1999, she returned to her home state of Indiana to attend Purdue University School of Veterinary Medicine. After graduating in 2003 from Purdue, Dr. Sara joined a mixed animal practice in Terre Haute. In the last few years she has practiced in the Indianapolis area. Most recently Dr. Sara joined the faculty of the International Business College VetTech Institute. Dr. Sara's professional interests are feline medicine, geriatric care and client education. Dr. Sara and her husband Paul have 2 children, Jacob and Cora and 2 cats, Noah and Emily.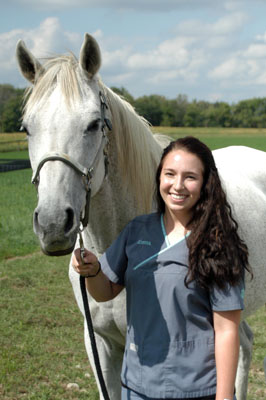 Emma Wallen
Small Animal Assistant
Emma joined the JVC team in August of 2014.  Emma is a Sheridan native with strong ties to the local business community. She attended Sheridan High School and completed 2 years of Advanced Veterinary Assisting through the J Everett Light Career Center in Indianapolis. Emma was an active member of National Technical Honor Society, HOSA, FFA, and 4H.  Having been raised in a rural community Emma has been around horses and cattle her entire life. Recently, she has transitioned from riding hunter/jumper and has ventured into the western and trail riding world. Emma currently resides in the country-side of Sheridan with her English Mastiff, Reba and her Quarter Horse, Cuda. Emma enjoys spending time outdoors and giving back to her community.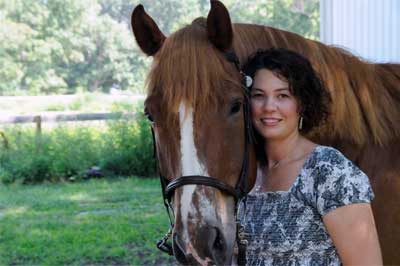 Corinna Wagner
Receptionist
Corinna Wagner joined the JVC team in August 2011.  Growing up in Taylorville, IL, she spent her afternoons working for the local veterinary clinic all through high school.  Corinna continued her education in Early Child Development but never lost her love for animals.  Corinna has raised Boxers, Bullmastiffs and American Bull dogs over the years.  Having always wanted a horse growing up, Corinna made that dream a reality when she moved to Indiana and bought her first two horses.  She started out trail riding then moved on to ride hunter/jumper.  In 2008, Corinna received her certification from PATH International (Professional Association of Therapeutic Horsemanship, formerly known as NARHA) and was able to combine her passions, children and horses.  Corinna was barn manager for a therapeutic riding center in Zionsville before coming to work for Janssen's.  Corinna resides in Jamestown with her husband, three children, and cat.  She spends her spare time out at the barn with her horses, Chester, Boomer, and Nemo.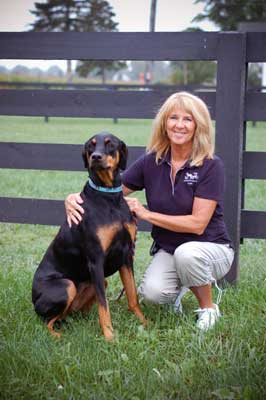 Vickie Benefiel
Receptionist
Vickie Benefiel has been with JVC throughout the last 20 years as an assistant and receptionist. She fell in love with horses in the fifth grade. Since then, Vickie has been a regular competitor in Barrel Racing. Vickie and her husband, Steve, spend their time outside of work watching their grandchildren, Jacob and Audrey, in sporting activities and 4-H. Weekends are spent at competitions and giving time back to local kids instructing barrel racing clinics. Vickie and Steve care for their four-legged children, a dog, Pebbles, and horses, Tex, Chick, Gabby, and Willie.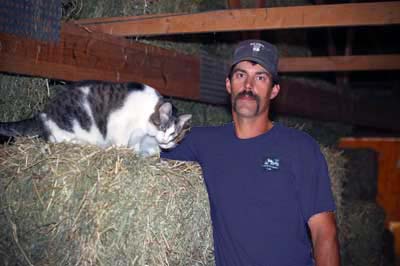 Jacob Schnarr
Fixer of all things
Jacob Scnarr is a Hamilton County native with long-time connections to the Thompson family. Before joining Janssen Veterinary Clinic in 2012, he spent 17 years working for Dr. Scott Thompson's father doing underground utility/telecommunication construction. During that time he gained a variety of skills that make him a valued member our team. Jacob and his wife, Jennifer currently reside in Noblesville with their son Joey. Jacob is also a fan of the great outdoors and enjoys hunting, fishing & camping, as well as time on the farm.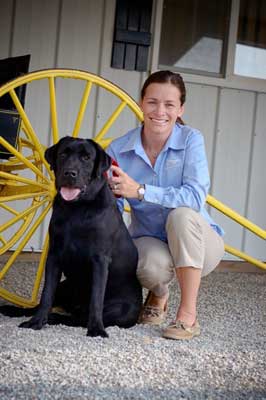 Leslie Thompson
Practice Manager

Leslie Thompson earned her Masters of Business Administration in 2004 from Butler University. She manages the financial and human resource aspects of JVC. Leslie began her career at a software development company in Indianapolis first in sales and marketing, and then as a Controller. After being introduced to Dr. Thompson by a friend and client of JVC (on a blind date), they were married and have three children, Norah, Polly and Ingrid, a black Labrador, Rocky III, yellow Labrador, Hunter, and a cat, Lewis. Leslie's interests include mission work in the Dominican Republic, running, water-skiing, traveling and spending time with her family.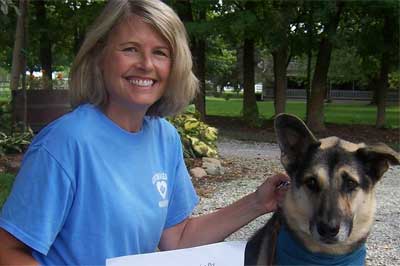 Karen Naber
Community Outreach
Karen Naber earned her Bachelors of Science at Indiana University in Computer Science. She has been a member of the JVC team since 1998. Karen's involvement in the local community stems from a 9 year leadership stint with Boone County 4-H to her current membership with the Love on a Leash Pet Therapy Program. Her husband, Charlie, and children, Meredith and Derek, are members of Saint Maria Goretti Catholic Church. Karen cares for many four-legged family members including her horses, Shadow and Easy, miniature donkeys, Jubal and ZZ, two dogs, Jethro and Clyde, and three cats, Hershey, Dora & Diego.