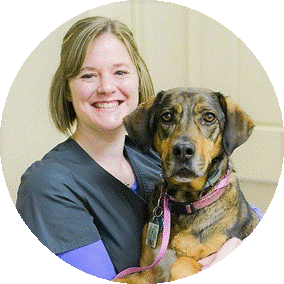 Christine Inman, DVM
Canine & Feline Veterinarian
Dr. Christine Inman joined Janssen Veterinary Clinic in 2019. She grew up in a small town in west central Indiana, making her decision to become a veterinarian after a school project in the 5th grade. While earning her B.S. in Animal Science, Dr. Christine was also a member of the Purdue Women's Swimming and Diving team, during which time she was awarded Academic All Big Ten accolades and was one of the team captains her junior and senior year. After graduating in 2010, she went on to complete her Doctorate of Veterinary Medicine degree from Purdue in 2014. While in veterinary school, she was very involved with the Christian Veterinary Fellowship and participated on a mission trip to Nicaragua. She began her career in west central Indiana in a mixed animal practice and after several years, transitioned to full-time small animal work. Dr. Christine has broad interests in veterinary medicine and surgery and is a member of the IVMA and AVMA. In her free time, she enjoys hiking with her dog, riding her horse, camping, and curling up on the couch with her 2 cats.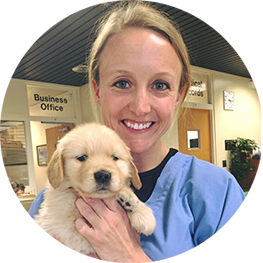 Katie Hornberger, DVM, DACT
Equine, Canine & Feline Reproduction
Dr Katie Hornberger grew up in Terre Haute, Indiana. Her strong love for animals started when she was a little girl. At 9 years old, her parents won a horse riding lesson. Since that day, Katie fell hard for horses. She continued western riding lessons and soon knew she would be a veterinarian. She graduated with a Bachelor of Sciences in Animal Science from Purdue University in 2009 and continued to complete her Doctorate of Veterinary Medicine from Purdue University in 2013. Upon graduation, Dr. Katie did a 1 year equine and small animal internship near Cincinnati, Ohio. Following her internship, she pursued a 3 year Theriogenology residency at Oklahoma State University, where she addressed the reproductive needs of all species.
During her residency, Dr. Katie had the opportunity to acquire advanced reproductive skills including equine embryo transfer, oocyte aspiration, semen processing and freezing, high risk pregnancy management, and various other techniques. In addition, she had the opportunity to acquire skills in canine breeding management, trans-cervical artificial insemination, semen processing and freezing, medical pyometra management, c-section planning, and other various skills.
Dr. Katie enjoys all aspects of veterinary medicine but has a special interest in both equine and small animal reproduction and neonatal care. In her free time, Katie enjoys spending time with her husband, riding her mare, hiking with her dogs, and baking.